The car is now stripped down, there is quite a lot of rust which needs cutting out and new metal welded in. As always most of this is on the more inaccessible underside. There is nothing worse than trying to clean up, cut out rust and weld up on the underside of a car. You end up covered in mud, paint, rust etc. and when it comes to welding it is hard to do a neat job whilst literally bending over backwards and looking up.  To overcome this a few years back I made a "rotisserie" or "car spit". This is basically a cradle to which the car body is bolted, usually via the bumper mounting points – not on the AX though! – the cradle has pivots so the car body can be rotated. (not the best explanation so look at the pictures!).
1. The AX front bumper mounts are designed to crumple, deform and basically give up as soon as the car has a head on collision with a fly! So no chance of supporting the weight of the body on them. So I ended up drilling right through the front chassis legs, bolting on a spacer and a length of angle iron long enough to project forward past the bumper mounts. This gave two solid points to bolt another piece of angle between the two. This angle iron was then bolted to th front leg of the spit, The front of the car was lifted up on the gantry to the correct height to enable the spindle on the spit to locate with the leg.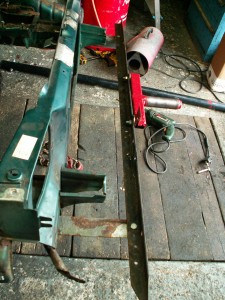 All ready to lift up onto the front leg of the spit
Note the big "washers" to spread the load on the inside of the chassis leg
2. All lifted up, front end no engaged!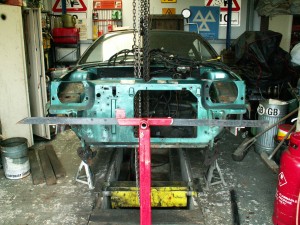 3. The back end was then fixed to the rear leg. This was a lot easier as the cross beam just bolted to the rear bumper mounts which are a lot less "wafty" than the front ones.
4. Pic of the rear end (car is mow on its side!
5. Pic. of the front end (car still on its side.
6. Final pic.
7. The car car be moved to what ever angle I want. I might adjust the mounting height as the car is a bit top heavy at the moment. The legs are adjustable and I can lift the whole car higher so that it will rotate all the way round. The spit is also on castors so it is easy to wheel the body around to give lots or room where you are working.
It took about half a day to mount the body on the spit – worth the effort in my opinion as it will make it so much easier and quicker to clean and weld up.
Next time – the welding begins……..